Beautiful Wachusett reservoir in West Boylston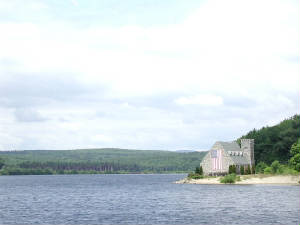 Reservoir has 37 miles of shoreline
West Boylston, incorporated in 1808, and abutting Worcester, flourished through the 19th century as an industrial center, with cotton mills, a scythe factory and boot finishing shops. In 1896, the Metropolitan District Commission chose the south branch of the Nashua River as the storage site for Boston's water supply and the fate of West Boylston, and several other towns, was changed forever.
In 1897, the MDC evicted 1,700 West Boylstonites who lived near the town's center and began razing 6 mills, 8 schools, 4 churches, one hotel and 360 homes to prepare for the 65 billion gallon reservoir. The entire Beaman Graveyard was moved to the center of town. Buildings, some still in use today, were dragged through the streets. The old stone Baptist Church, built in 1892 and recently restored by the West Boylston Historical Commission is all of the old center that remains in its original place. Away from Route 12, West Boylston is dotted with well-kept sub-divisions.
Most of West Boylston's residents work in Worcester or Worcester County, but I-190 passes through town giving easy access to Routes 9, 20, I-90 and I-495 and Boston is just 40 miles away. Being a suburb of Worcester means easy access to the city's cultural and commercial features.
Some town residents say that West Boylston is the best of both worlds because it is a non-urban environment just a stone's throw from the city. The excellent school system, under a school choice program, has students from other communities enrolled from kindergarten through grade 12.
Central Massachusetts, bordered by Worcester and Shrewsbury on the south, Holden on the west, Sterling on the north, and Boylston and the Wachusett Reservoir on the east. West Boylston is about 7 miles north of Worcester, 18 miles south of Fitchburg, 41 miles west of Boston, and 185 miles from New York City.
Nearby towns include Boylston, Holden,Sterling,Shrewsbury, Northboro, and Worcester.
At A Glance Report for WEST BOYLSTON - (As of 4/16/02)
Socioeconomic
County
WORCESTER
Kind of Community
Economically Developed Suburb
School Structure
K to 12
Regional Schools
Form of Government
•Selectmen
•Town Administrator
•Open Town Meeting
2000 Population
7,481
2001 Labor Force
3,205
1989 Per Capita Income
17,416
Population Per Square Mile
590
2001 Unemployment Rate
3.5
2000 EQV Per Capita
59,277
Moody's Bond Rating
(As of 1/1/02)
A3